Animal prints. You either hate them or love them. More and more people are loving animal prints. You can see them in bags, shoes and clutches. But are animla prints really appropriate in dresses? The star seems to be loving it.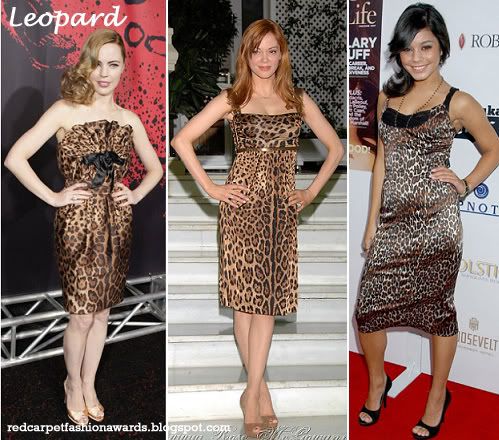 It's not easy to dress down an animal print dress. So you might want to wear it on night outs or as an evening dress for formal occassions. The stars on the photo love them and wears them on the red carpet. The leopard/ cheetah look seems nice but the secret is choosing the fabric. Go for something classy and elegant, like maybe, silk or satin. Never go for animal prints in heavy fabric like wool as seems kind of gloomy. I recently bought an leopard print dress, it's in chiffon with nice bubble hem.
You should go for neutral shoes when you have this kind of outfit. Stick to black shoes or gold/ brown shades. Accessories are not really a necessity with animal print dresses. You can just wear simple earrings or a bracelet. Make sure that you check the length of the dress that you would pick. Something just above or just below the knee would look great. You might want to check out Cameron Diaz sporting a zebra look dress in my previous post.